Want to go shark fishing?
Book the Shark Wrangler as your guide or go on a kayak tour of South Carolina
Blacktip Sharks
Carcharhinus limbatus
If you have more questions about this species or any other species of shark, ask the Shark Wrangler!
He has handled live sharks of every species on this site except blues and makos.
These pages are brought to you by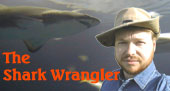 Atlantic Sharpnose
Blacktip
Blue
Bonnethead
Bull
Dusky
Hammerhead
Lemon
Mako
Mini-Bull/Finetooth
Nurse
Oceanic Whitetip
Sand tiger
Silky
Spinner
Tiger
NEW SPECIES
Angel
Smooth Dogfish
Spiny Dogfish
COMING SOON...
ACTUAL VIDEO OF THESE SHARKS!!!
The Shark Wrangler is out in the water shooting video of these beautiful animals. We should have some clips of some of these sharks soon. Check back. 7-04
These sharks are one of the most common and interesting species off SC. They range from NC to the Gulf of Mexico. The Pacific Ocean species of Blacktip (C. melanopterus) has black coloration down the entirety of the rear of the caudal fin. They differ from the Atlantic species in behavior and metabolism.

The Blacktip is a very aggressive "hot-blooded" animal. They swim fast and have good strength. They commonly follow boats seeking out a free meal. As opportunistic feeders, they will eat practically anything. Part of their behavior and feeding habits are tied in to their metabolic rate. They range warm to hot water. Their speed in the water and presence in hot waters requires them to eat more. They will boldly feed at the surface. They have to feed often. This makes them one of the most commonly caught sharks in their range. Few fisherman have not seen a Blacktip.

They pup in warmer waters and have the ability to hide in brackish and even fresh water as juveniles. Fortunately, they have small teeth. This is especially good as these sharks are frequent attackers of swimmers and surfers.

Most attacks by blacktop's are accidental. Most result in heavy stitches but rarely if ever any loss of life. As they chase bait fish at the surface, it is common for them to miss identify surfers. Their bold nature makes them a mild threat to surfers.

This species DOES NOT survive handling or transport for aquarium display. Just like the Spinner shark, they will leap out of the water several feet into the air. They would jump out of an aquarium display if they survived transport to the aquarium. The metabolic rate of this species makes them absolutely unsuitable for transport even as a newborn. They are active in water over 85 degrees F.

PHOTO