Want to go shark fishing?
Book the Shark Wrangler as your guide or go on a kayak tour of South Carolina
Dusky Sharks
Carcharhinus obscurus
If you have more questions about this species or any other species of shark, ask the Shark Wrangler!
He has handled live sharks of every species on this site except blues and makos.
These pages are brought to you by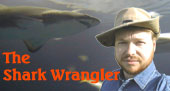 Atlantic Sharpnose
Blacktip
Blue
Bonnethead
Bull
Dusky
Hammerhead
Lemon
Mako
Mini-Bull/Finetooth
Nurse
Oceanic Whitetip
Sand tiger
Silky
Spinner
Tiger
NEW SPECIES
Angel
Smooth Dogfish
Spiny Dogfish
See Video of Sharks Collected by the Shark Wrangler Now
This species of deep water shark for decades has been caught by longline operations in the waters of North and South Carolina and Florida.

They have a wide snout and wide mouth giving them a massive set of jaws for their size. Which allows them ease in feeding on large schooling fish and octopi, even flat fish from the bottom.

Their maximum size is believed to be 12 feet. While healthy 10 and eleven footers are sufficiently large to do well in the continental waters. They roam the waters off the east coast to the Gulf of Mexico.

This species does not do well in transport and does not appear to be suitable for display. Also, it is not safe to observe this species underwater without a cage. Remember when down in the water this isn't like some fantasy games. This is real life and a real predator you are dealing with, treat it with the respect it deserves.

Teeth are almost identical to those of Bulls. However, the definitive difference is that the teeth tend to be much smaller while jaws are immense. The jaw set tends to be wide in shape regardless of mount, very impressive.