Want to go shark fishing?
Book the Shark Wrangler as your guide or go on a kayak tour of South Carolina
Spinner Sharks
Carcharhinus brevipinna
If you have more questions about this species or any other species of shark, ask the Shark Wrangler!
He has handled live sharks of every species on this site except blues and makos.
These pages are brought to you by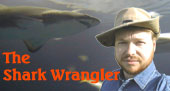 Atlantic Sharpnose
Blacktip
Blue
Bonnethead
Bull
Dusky
Hammerhead
Lemon
Mako
Mini-Bull/Finetooth
Nurse
Oceanic Whitetip
Sand tiger
Silky
Spinner
Tiger
NEW SPECIES
Angel
Smooth Dogfish
Spiny Dogfish
See Video of Sharks Collected by the Shark Wrangler Now
Often mistaken for Blacktips, this fast swimming species is quite impressive. They have a robustness and appearance very similar to Blacktips in juvenile and adult stages. The differences appear subtle. To find out more about identifying them from the Blacktip, click on the PIC.

Their name is said to be given due to their leaping ability. They can leap higher than Blacktips. While the Blacktip might be a stauncher, tougher swimmer, the spinner has the greater speed. They may leap several feet out of the air when hooked or when chasing prey. Spinners have been observed leaping seven feet out above the water. After breaking the surface, they will spin like a ballet dancer before crashing again into the water.

Spinners feed on schooling fish as well as other sharks and elasmobranches. They are great challenges to fishermen on light tackle. While not credited with any attacks, their speed in attacking fish schools and closeness in color to Blacktips may make them part of the nicks received by surfers.

This species is unsuitable for captivity and should never be taken for display. They will perish in transport within minutes just like Blacktips.
Head Side View
Head ventral
Body Ventral