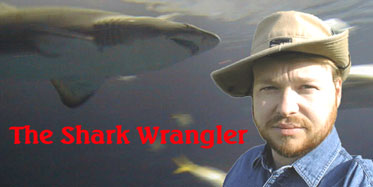 Contacting Ken
You can usually reach Ken at
843-545-6577
Monday-Friday 9AM EST to 6PM EST ONLY
OR
Email anytime at
contact@sharkwrangler.com
I do have a spam trapper. So, please reply to the autoresponse email you receive when you email me. Otherwise I will not receive your email.
If Ken is out in the water and does not answer, he will return your call in a timely fashion. If you don't get a reply to your email in 24 hours, feel free to email him again to make sure the spam blocker did not eat your first email.
ATTENTION: THIS SITE HAD NO AFFILIATION WITH THE TV SHOW, "SHARK WRANGLERS", ON THE HISTORY CHANNEL.
KEN HAS MADE NO APPEARANCE ON THAT NETWORK. KEN DOES NOT SUPPORT THE PRACTICES OF THE SHOW OR ITS TITLE. KEN WAS A GENUINE SHARK WRANGLER NEARLY 20 YEARS AGO AND POPULARIZED THE TITLE "Shark Wrangler". He is NOT a novice guy who does not know how to handle or tag large sharks. Ken has been a consultant to researchers and organizations on the subject of tags and tagging advising them on safer methods of tagging and warning them against tags and techniques that harm, endanger or even kill sharks. He did so from the time he first joined the National Elasmobranch Society in the 1990's! Ken has been collecting, transporting and tagging large sharks since the the early nineties and catching smalls sharks before that. DO NOT CONTACT KEN with any more hate mail, insults or complaints about the TV Series, Shark Wranglers! DO NOT CALL KEN CURSING HIM OR DEMANDING TO KNOW WHY HE DRILLS SHARKS!!! Ken has never drilled a shark!
Ken IS NOT a consultant for or affiliated with the History Channel series that bears his moniker and is NOT responsible for its content or practices!!!