Want to go shark fishing?
Book the Shark Wrangler as your guide or go on a kayak tour of South Carolina
Mini-Bull (AKA Finetooth) Sharks
Carcharhinus isodon
If you have more questions about this species or any other species of shark, ask the Shark Wrangler!
He has handled live sharks of every species on this site except blues and makos.
These pages are brought to you by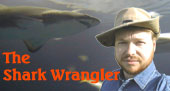 Atlantic Sharpnose
Blacktip
Blue
Bonnethead
Bull
Dusky
Hammerhead
Lemon
Mako
Mini-Bull/Finetooth
Nurse
Oceanic Whitetip
Sand tiger
Silky
Spinner
Tiger
NEW SPECIES
Angel
Smooth Dogfish
Spiny Dogfish
See Video of Sharks Collected by the Shark Wrangler Now
This is another species of small coastal shark. Found from NC southward, it ranges the warmer waters of the east coast. They tend to have a poor demeanor. They can be an aggressive species for their size. They are born (on average) as a very large and robust pup from 21 to 25 inches in length. This is large for a shark with a maximum size being only around 4 feet in length.

Mini-bulls have short, narrow teeth. They are very aggressive hunters feeding on large fish from birth. They generally do not attack humans despite their somewhat unpleasant disposition. Their disposition may be due to their love and endurance of very hot water (over 86 degrees F). They are very active during the breeding and pupping season.

This species has not been used much for display. This is unfortunate given their beauty and small teeth. Though they can nip or bite rays and tank mates, they are durable and do not get too big for aquariums. They are not pressured by over-fishing.

NEW PICTURES TO POST THIS MONTH!!!
Body Dorsal
Pectoral Fin
Gill slits
Head Side View
Skin
Snout Ventral